I was reviewing my credit card charges and noticed that I was paying $20 more a month than I was used to paying to Aweber each month. That meant only one thing; I had reached the next subscriber threshold. You might think that this is something to celebrate considering it means that you've got a booming healthy list of subscribers, but not all of those subscribers are active and participating subscribers, they are just dead weight needlessly driving up your list maintenance fees. Generally you won't notice you're paying more until you hit that next echelon and get your credit card bill, but use this as a reminder to not put it off until next month and save yourself some cash by removing subscribers in Aweber, the kind whom just waste your money. With all that in mind, let's talk about how to go about removing subscribers in Aweber.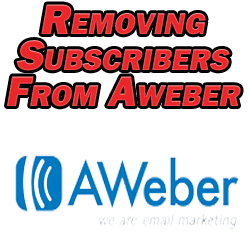 Removing Subscribers in Aweber
Before we get to the space wasters, let's remove the unsubscribers. These are people who have unsubscribed from your list and consequently are no longer receiving your content but unbeknownst to most list owners, these subscribers count towards your total list count so they can drive up costs by giving you a false total number without your even realizing it. It's a bit sneaky and practically every email list provider does the same thing, so you've got to remove these manually.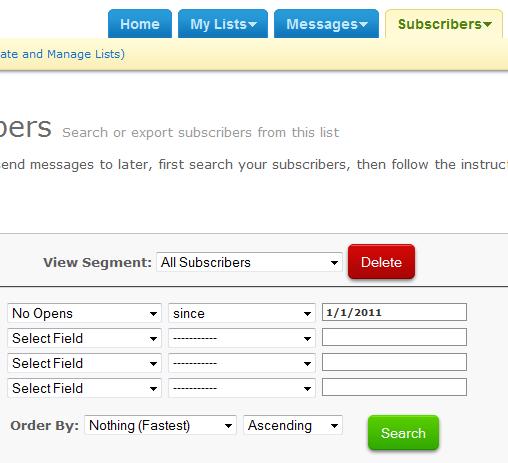 Log into your Aweber account, highlight "Subscribers", and click on "Search". Aweber has a premade segment called "Unsubscribers". Just click on this from the "View Segment" pull down menu and this will display all of the people who no longer receive your content but still count toward your total. Select the check all option and delete all of these accounts.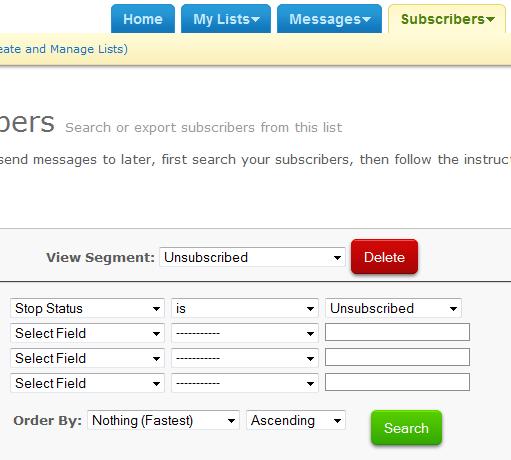 Now while we're still here, click on one of the boxes which says "Select Field" and scroll down to "No Opens". You need to select a date range to find the people who have never opened anything you've sent them. If you've never done this (or even if you have) you might just go to the beginning of when you start building your list. I hadn't done it in a year and had several HUNDRED accounts of people who have never opened anything up. They were clearly just trying to get my freebie incentive or were added by mistake, either way they have no place on my list. When you get your list of no opens, do the same thing as we just did with unsubscribers to delete them all and remove the clutter en masse.
One final step I recommend is even deleting the folks who don't open your broadcast or autoresponder messages. Again, if someone just signs up for your list to get the freebie and get to the point to where they open the required initial confirmation email but don't open any of your autoresponder (see setting up an autoresponder) series, they won't appear in your "no opens" list but they're just as worthless to you, so use the "Message Not Opened" option from the pull down menu, select follow up, and select one of those messages to see who hasn't opened it.
You might make a segment out of those people and compare it to a second message because if someone hasn't opened 2 of your messages then that's enough of a sample to know that you should remove them.
Additionally, if you're sending out a weekly newsletter which has important and potentially lucrative content in it and certain subscribers of your list aren't opening it, you can pick out a couple of messages, create a segment for those who aren't opening them and do the same thing to get rid of the dead weight.
You might think about sending them a questionnaire in terms of the kinds of content they'd prefer to see from you. If they don't even open that questionnaire then you won't feel as bad about cutting them.
Unless you're just trying to fool people by boasting an inflated list size number, these people have no business on your list, so use the tips I just mentioned to cut the fat and bring down your costs in favor of a more lean and targeted list.
Don't forget to effectively use email list segments to get the most response and activity out of your subscribers, as well, and don't forget to download my Complete Email Marketing BluePrint for FREE!