Google recently expanded on their nofollow designation to give webmasters the option now to designate a link as either sponsored or UGC (user generated content), two of the purposes which once existed under the nofollow catchall. Let's compare the nofollow vs sponsored vs UGC link attribution and cover which each is used for in different situations.
Nofollow vs. Sponsored vs. UGC Links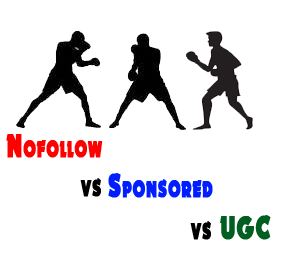 Nofollow – Just as it could be intended for (among other uses I'll cover with the two new designations) in the past, the nofollow link attribution is for any link which you don't want to attribute any link juice to.
Use the nofollow attribution anytime you're linking to a site you don't vouch for as there is no influence or indexing from your site sent through in Google's eyes.
Sponsored Links – Sponsored is the designation for affiliate links or paid placements.
We can be reasonably sure that zero influence will be passed from one site to another via a link which has been designated "sponsored".
UGC Links – UGC stands for user generated content and should be used for any links created by users on a site which you control.
An example would be if you ran a forum or message board and users were allowed to create links within their posts.
The UGC designation is important because it means you don't necessarily take responsibility for the links created with this designation.
What Sponsored and UGC Means For You
Pretty Links allows you to set designations for each link you make in terms of nofollow, sponsored, or UGC (or a combination).
The obvious question now is how many webmasters will use these attributes, and what effect will they truly have over rankings.
Regarding the UGC and sponsored links, it seems a bit more obvious that they won't pass on positive influence.
As an aside, I can't help but wonder if we're doing Google's work for them with the sponsored link, and if a site has a ton of them if that wouldn't count against them in their rankings more than it did before those links were obviously tagged as such.
That just leaves the nofollow link as a bit of a question mark.
Google has repeatedly stated that adding the nofollow tag passes zero link influence from one site to the other, though many SEOers are still skeptical of this.
Now that the other purposings of nofollow have been removed from the equation, it will be interesting to see how Google will treat these links moving forward, if they're going to be at all different. Maybe I'm just overthinking it.
At the very least you now know what nofollow, sponsored, and UGC link attributes are each MEANT to denote.