Amazon's affiliate program (ironically NOT an affiliate link) is the best service for selling physical products as an affiliate because it's the biggest on the planet.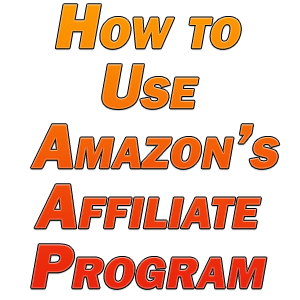 If you want to sell a physical product, Amazon likely has you covered. That's important, because the more options an affiliate network has, the greater the odds that there's something to promote any time you write about anything.
I cover how to use Amazon's affiliate program in today's episode.
How to Use Amazon's Affiliate Program
How to Sign up For an Amazon Affiliate Account
The first thing to do is sign up for an account at https://affiliate-program.amazon.com/.
It's free to do and only takes a few minutes of answering some basic questions.
After you've put in your name, address, etc., they'll ask you which websites you'll be using to promote Amazon's affiliate links.
After that, they'll ask a bit more about the sites you're using and methods of driving traffic to your site(s) you use.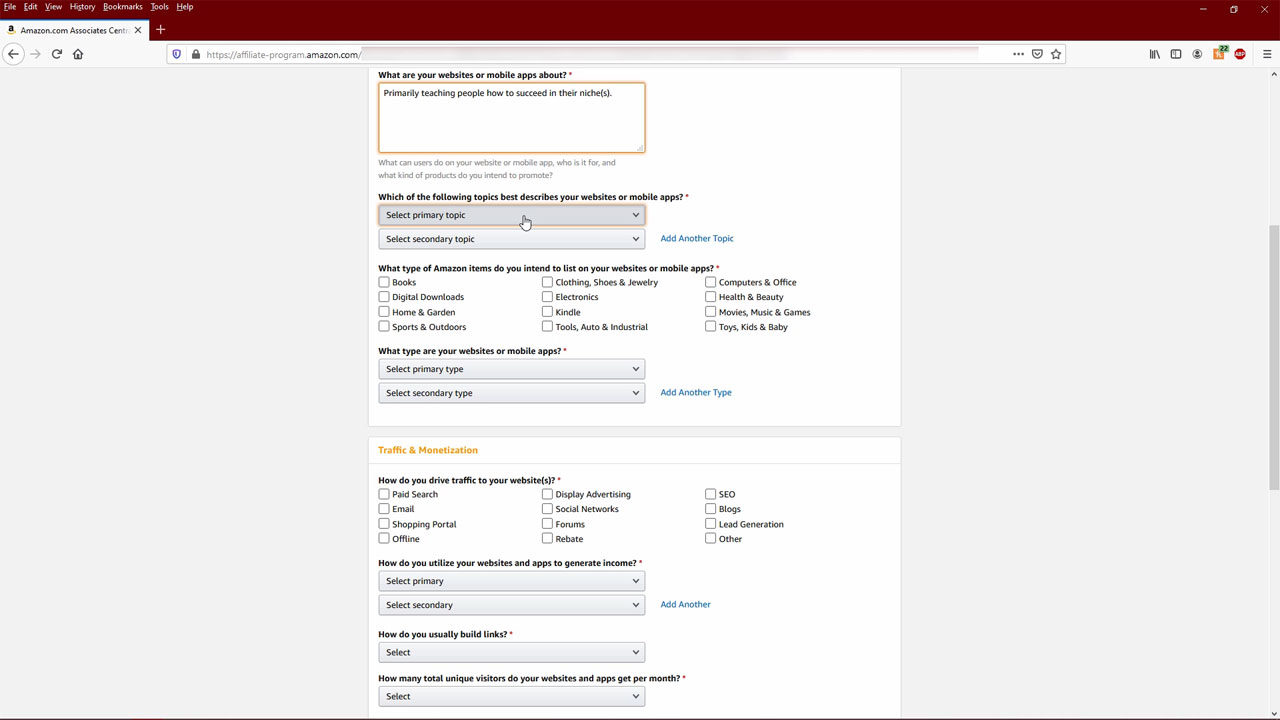 After you've finished, you'll be able to start creating links. Note that you have to register three qualifying sales in the first 180 days of your account to stay in the program, and making a purchase from your own link does not count.
You can either find products to promote from within the dashboard of your affiliate account, or alternatively you can go to any product's page on Amazon and you'll see the following header bar at the top of your browser:

From there, you can grab text, image, or combined links for many products on Amazon. You can also hit the Facebook or Twitter buttons to one click share your affiliate link on those products with your audiences on the related social networks.
Note that not all products are available for commissions as some sellers do not allow affiliate commissions on their products.
If you use WordPress, I recommend using Pretty Links to make your affiliate links look more attractive (though be sure to mention when something is an affiliate link). Pretty Links also allows you to designate the redirect code for the link
Amazon Affiliate Commission Rate
One of the most frequent questions associated with how to use Amazon's affiliate program relates to the Amazon affiliate commission rate.
How much can you expect to earn by selling Amazon's products?
In the past, affiliates were paid more or less depending on how much they sold. Now it's moved to more of a series of fixed rates for different categories.
As you can see from the chart below, luxury/beauty products at the time of this article pay out the highest commissions at 10%.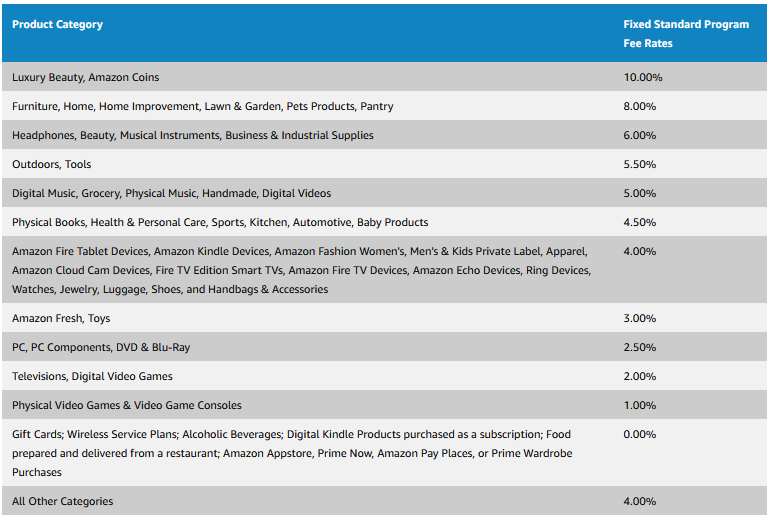 Some higher end products like electronics yield a much lower commission at just 2.5%, though obviously 2.5% on a brand new gaming computer will likely net you a substantially greater commission than 10% on a bottle of shampoo.
With the ease of grabbing a link and pairing it with Pretty Links on your site, it's pretty quick and simple to integrate attractive looking affiliate links for Amazon products into your site when you're giving reviews or just mentioning a product you like in passing (when relevant).