As I talked about last week, there has long been a great deal of speculation on the topic of does negative SEO exist. The Google Disavow Link Tool is a nifty new tool from Google Webmaster tools which allows webmasters to pick and choose which sites/pages linking to their site which they don't want to be counted as part of their linking profile.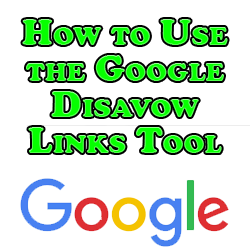 How to Use the Google Disavow Links Tool
So say you happen to know for a fact that someone is creating low quality links to your page with the express purpose of hurting your site in Google's eyes and in their SERPs. Or maybe you just made an enemy with another, spiteful webmaster and they're taking the low road by trying to sabotage your ranking in any way that they can.
It's important that you always stay on top of your linking profile via Google Webmaster Tools where you can see your linking profile in full, so all of the sites linking to your site will appear here. If there are sites you don't recognize and upon further investigation you notice are spammy, if you can't remove those links personally, you can go ahead and use the Google disavow link tool to load either the specific pages or even sites themselves which you don't want associated with your linking profile. This is the major purpose of this tool, so let's take a quick peak at how to use it in this video:
Note that Google say that they would prefer that you get rid of the links yourself rather than telling Google to ignore them. They say this to skirt the issue of negative SEO. I basically take this as Google turning a blind eye to the idea of negative SEO and making an attempt to convince webmasters that it's not a legitimate concern.
There would be chaos in webmaster land if Google admitted that negative SEO is a real threat to your site and more importantly it would likely cause a lot more webmasters to try it themselves on their competitors.
All of that largely speculation aside, the Google Disavow Link Tool is a powerful ally to not overlook when you have questionable or problematic links coming to your site which you cannot easily remove yourself.
This is also a good reminder to pay close attention to your linking profile using your Google Webmaster tools to keep tabs on them and not only make note of which links are potentially problematic but to get a better understanding of your linking profile in terms of where those links are coming from and the types of links you're getting.