Facebook custom audience targeting feature is now live and gives you the ad runner a great deal more control over who you can reach with your ads, delivering a higher ROI if you know how to effectively take advantage of the feature. Let's talk about how to use Facebook custom audience targeting.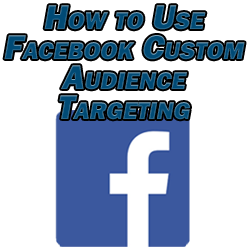 How to Use Facebook Custom Audience Targeting
Retargeting – I talked about remarketing awhile back, well this is essentially the same thing. Remarketing displays ads on websites for brands and products you've shown an interest in. So if you've been researching acoustic guitars and have maybe gone to a music instrument retailer's website recently, you'll see custom text and banner ads for acoustic guitars from that retailer on other sites you subsequently browse.
With Facebook retargeting, you can do the same thing to remarket to people who have visited your site recently but who maybe haven't pulled the trigger and reached that confirmation page but through Facebook custom audience targeting. This will help to convert visitors who were maybe on the fence the first time and just need that extra push.

You can use this effectively to custom target past visitors to your site who went to specific pages on your site, making it ideal for eCommerce merchants who have multiple product categories to offer and want to create custom tailored ads for people interested in specific products rather than their company as a whole, resulting in higher conversions.
Targeting Across Devices – Another cool thing you can do with Facebook custom audience targeting is reaching someone with targeted ads across devices without them having to visit your site on more than one device. So if someone visits your website on their smartphone but doesn't convert, you can target them later when they're using Facebook from their desktop computer.  
This is effective because some people don't make like to make any purchases from a mobile device, so you can remind them of your products they were checking out earlier but on a different device because they obviously connect with the same Facebook account across devices. Conversely you can target people who visited your site from a desktop but later once they're on their mobile devices, as well, giving you full coverage no matter where they are.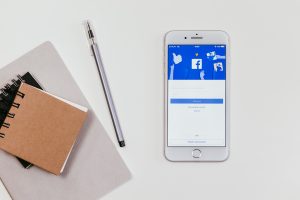 Existing Customers – Existing customers are more likely to convert again in the future than someone who has never purchased anything from you. Therefore you can create a custom segment for people who have reached the confirmation/conversion pages on your site to target them with new and relevant products and services in the future, even offering incentives for existing customers, as well.
Target Histories – More than just targeting existing website visitors, you can target people based on their search histories with Facebook custom audience targeting. So if someone searched for acoustic guitars but did not visit your site, you can find and target them specifically to let them know what you have to offer.
Since it's Facebook you can get even more specific and target people who searched what you want. You can then supplement it with gender, age, income, or really any information people share on their profiles.This makes it arguably the most precise ad platform you can use to find your target demography.