You may have experienced this before: you log in to your Google Analytics and are pleasantly surprised to see a sudden boost in traffic to your website, specifically in referral traffic. Upon closer investigation, however, you are disappointed to discover the majority of that referral traffic is coming from spammy sources.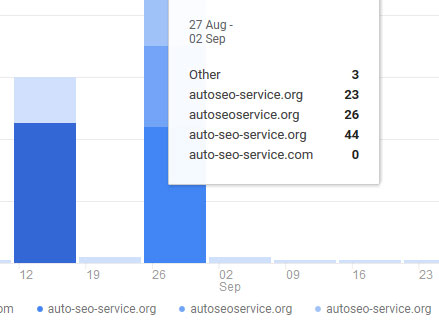 The sole purpose for this is to catch your eye in the hopes that you'll look up their URL which then ironically turns into traffic on THEIR site.
You'll see an example to the right as I noticed a substantial uptick in the referral traffic for one of my sites as a spammy SEO service (I can only assume as I didn't bother checking them out).
This skews your data, and as with everything else with Google Analytics, you cannot retroactively filter out that data permanently.
For this reason it's helpful to put together an additional filter for your main/all relevant views which removes spammy referral traffic so you don't have to be duped by fake traffic in your Google Analytics reports again (until the next culprit steps up).
Now let's talk about how to remove spammy referral traffic in Google Analytics.
How to Remove Spammy Referral Traffic in Google Analytics
Fortunately, Google Analytics makes it very easy to remove any subsequent traffic from the URLs of your choosing from ever showing up in your reports again.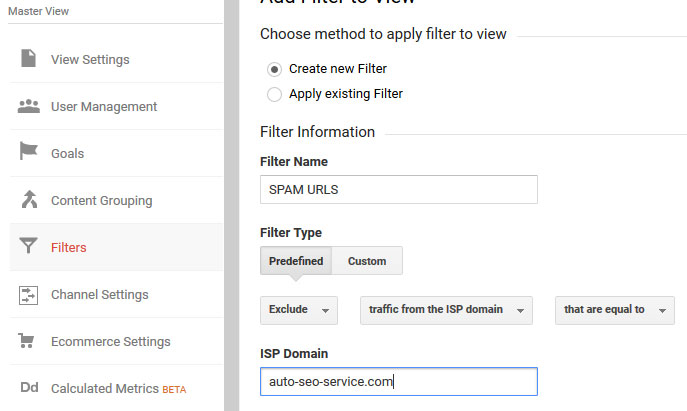 To do this, we simply need to navigate to the "Admin" tab of our analytics account. Once there, you select the specific account, property, then specific view you want to affect with this new filter.
Then select "Filters" from that view list.
You'll choose "create new filter", then name the filter something related to the URL you wish to exclude. For the purposes of this example, I just chose "SPAM URLS" but you likely want to point it to something closer to the actual URL in question as a quick reminder.
Then select "Save" and rinse and repeat for however many offending websites are linking to your site to send spammy referral traffic your way.
Then just like that, you won't have to worry about seeing any more traffic from that URL anymore in the future in your Google Analytics.