For a lot of us, online marketing is all about making money. To effectively make money in online marketing as it relates to SEO, we should focus on buying keywords. These are keywords which people search for when they're in a purchasing mood, hence buying keywords.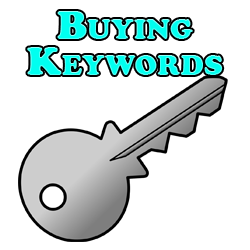 Buying Keywords
You want to focus on buying keywords especially because they bring in a great deal more income than other keywords, so it's better to target or focus on these so you receive a greater reward for the work which you put into ranking for them as compared to other keywords.
So how does it work and what does a buying keyword look like?
A buying keyword has a number of different characteristics to it which tip us off so we know for sure that this is a keyword which someone searches for when they are more likely to make a purchase. Here are a few of these characteristics:
Product Name – When someone searches for a product name, it shows that they are interested in that product specifically within its niche rather than all other products and are much more likely to buy that product. They may want some information on it first or to price compare, but if you can rank above your competitors for a product, you're in great shape, particularly a product which is raking in 1000+ exact searches each month.
"Buy Keyword" – This one is a no brainer but buy + your keyword is a keyword phrase just like any other. The only difference is that when someone is searching for that keyword phrase specifically, the odds that they are set to purchase that product in that instance without doing any research or price comparison is near 100%.
The challenge is on you to rank for that keyword but many marketers don't think to target the "buy + keyword" phrase so think about integrating that into a page on your site with a quick and obvious link to it of your own for a low competition converting buying keyword. "Buy keyword" may only receive a handful of searches per day, but you know that these keywords will convert at extremely high rates, so they're still worth your time.
Don't forget alternatives/synonyms of "buy" such as "purchase", "order", or even "get".
Qualified Buying Keywords – Similar to just tacking on "buy" or "purchase" to your keyword, think a bit more outside of the box and put yourself in the mindset of your customer. People love getting a great deal, and many times they may actively tie that into their search. Therefore think about qualifying your product names with adjectives such as "affordable + keyword" or "cheap + keyword". The more creative you can get in this sense, the less competition you'll be facing while still connecting with the small handful of web users who are using those phrases to find what they're looking for each day.
Going one step further, think about questions someone may search for as it relates to the product such as "where can I buy + keyword", "who sells + keyword", or even "lowest price for + keyword". In this sense you could answer these questions on your own site and direct that traffic to whomever offers them the best deals.
Remember that the whole idea of buying keywords is that you're not working to persuade these people to purchase the product in question. Instead you're simply connecting with the people who have already made up their minds about buying that product and serving them accordingly, making your job a great deal easier and netting you a lot more sales.
Learn more about keyword commerciality and what makes for a good keyword in this sense using Adwords.