Just like with using Excel, a statistical table in WordPress can be an effective way to display comparative data to your readers. You can create a table in your graphics editing software of choice, but I'd rather have both a text based version of that table plus an image version which has a chance at ranking in Google images. Refer to this video on how to make a table in WordPress using a simple plugin and a straightforward approach.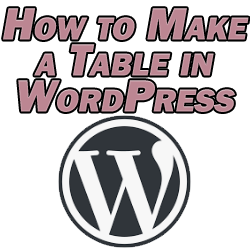 How to Make a Table in WordPress
After you've finished creating your table, go ahead and take a still of your screen and paste and crop that table into your image editor of choice. It doesn't have to be Photoshop (though Photoshop doesn't sacrifice image quality), even Paint will work.
Once you have the image of your statistical table, use it as your featured posts image while titling it after your keyword in the alt text and title tags or in the post itself and give people the option of embedding it on their sites.