A couple of weeks ago I did a video on the three types of anchor text and covered anchor text SEO 101. The message to take away from that post is that you need to diversify your anchor text which you use to avoid the Google over optimization penalties. The majority of your anchor text which points to your sites should be generic or brand related with only a small percentage of your links being comprised of targeted keyword rich anchor text. This makes sense considering that generic anchor text is much more likely and natural for your site. Like I always say regarding this, if another webmaster creates a link to your site, odds are they'll use the URL itself as the link or they'll use generic anchor text like "click here". You want to make your link building as natural in appearance as possible if you're creating links to your site, so here is a big list of 50 examples of generic anchor text.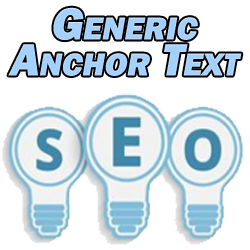 Generic Anchor Text
Click the Following Page
Click the Following Website
Click the Following Webpage
Click Here
Click the Following Web Page
Click the Following Link
Click the Following Post
Click the Following Internet Page
Click the Following Internet Site
Click the Following Article
Click Through to This Article
Click Through to the Following Page
Click Through to the Following Web Page
Click Through the Following Webpage
Click Here For More Information
Click Here For More Info
Get More Information
Get More Info
See These Helpful Hints
See These Helpful Tips
See This Helpful Information
See This Article
Check Out These Helpful Tips
Check Out This Information
Check Out This Info
Check Out This Tutorial
Check This Out
Read This
Read This Page
Read This Article
Read My Article
Visit This Website
Visit This Site
Visit This Page
Visit This Web Page
Visit This Webpage
Visit This URL
Visit URL
See More Information
See More Info
See More Tips
See More Hints
See This Article
Read Much More
Visit This Link
Visit The Following Website
Read More About This
Check Out This Article
Refer to This Article
Refer to This Page
Refer to This Site
Refer to This Web Page
Refer to This Article for More Information
Refer to This Page for More Tips
Refer to This Site for Additional Information
Refer to This Web Page for More Info
Note that virtually all of these examples of generic anchor text can be easily plugged into a resource box or to follow whatever text you have more or less seamlessly. Also note that all of these examples have roots and subjects which can be mixed around and combined with each other to create many more combinations and possibilities, so get creative!