I've talked in the past about how to make a page on Facebook. With Facebook being the most heavily trafficked site on the internet, this goes to show how invaluable having a satellite site/profile for your main URL on these high traffic networks can be. Many web users exclusively use the likes of Facebook for their internet browsing, so without having a place where people can locate you on one of these sites you are leaving a lot of potential money and business on the table.
Google Plus is still in its infancy compared to the Goliath which Facebook has become, but it's still important to get in early and establish yourself on this network if it eventually does become a contender of Facebook.
When the site first went up, business and fan pages were not available on G+ like they are on Facebook, but now that the site is more up and running, it's simple to set up a fan page so let's talk about how to make a page on Google Plus.
First, set up a personal account. If you already have a Gmail or other Google account, you can use this account information to get started. Once you have your personal Google Plus account, navigate over to https://plus.google.com/pages/create and choose the category which most represents the thing which you want to create a page for whether that's a local business, a product/brand, a company/organization, etc.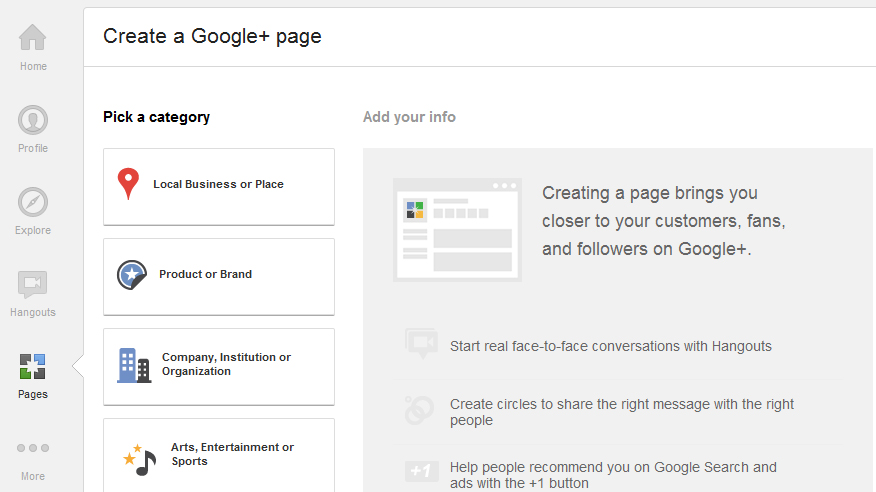 When setting up a page for ConvertingCopy.com, I went with "Company" and used Converting Copy as the page name, added my website's URL, and choose the specific niche category. Next give yourself a nice logo to go with your page. You likely already have the one which you used for Facebook, note that this one should be 250 x 250 pixels.
If you have any friends on Google Plus you will then be prompted to share your new page with them if you like though you don't have to.
One last thing which you'll want to do is edit your "about" page to fill in your introduction and contact info and proceed to change your background and add some photos and or videos.
It's as simple as that to make a page on Google Plus; now you can proceed to add new posts or other content to your page, market your page, and even connect your main URL with your Google Plus page so you can take advantage of that social proof.
You'll receive your page's URL so you can promote it once your page has been created, as well. Note that you cannot get a custom/vanity Google Plus URL like you can with Facebook, though it's always possible that they'll change this in the future. Even seemingly high profile and trafficked Google pages from big name brands like Coke and Starbucks have random number strings for their URLs.