The other day I identified what is link building. Today we're going to talk about how to link build using the best practices.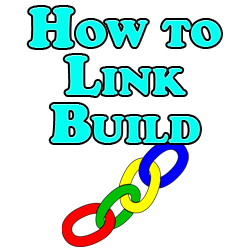 Now note that while the most natural and probably most preferable way for how to link build as far as the search engines are concerned is to simply create good content and hope that people will find it and link to it on their own; that's just not very realistic in terms of results. You have to go on the offensive and create your own links to your content, so let's talk how to link build right now.
How to Link Build
The best kinds of links which you can get are dofollow, high PR links from trusted sites (more on this in a moment. Let's talk about the most common sites which you can secure dofollow links for your site from:
Article Directories – Article directories like Ezine Articles are great places to grab quick one links. You write an article based on whatever you're linking to, then you get to include typically 1-2 links at the end of that article which act as one way links and bring in valuable traffic to your site.
Forums – Forums can offer dofollow links in some cases. You can register for an account and fill out your website's URL in your profile or create a link in your signature.
Blog Commenting – A lot of blogs offer dofollow links. The trick is writing a good enough comment which relates to their post to get that webmaster to approve your comment and along with your comment you can input your page's URL.
PR Sites – PR sites are great for getting the word out about your site and they offer a great one way link which you can include generally anywhere in the press release that you like.
Link Directories – Link directories don't offer much link juice (more on this in a moment) to your site, but they're generally easy to get and oftentimes for free. Do a search to find some link directories right now. You just submit your link and it's a quick dofollow one way link.
Link Exchanges – A link exchange occurs when you and another webmaster each create a link on your respective sites to the other's site. It's not ideal as one way links are seen as being more valuable because people can use link exchanges to abuse the link building method just for the sake of ranking well. See my post on types of links for more information.
Natural One Way Links – This simply occurs when one webmaster finds your content and links to it of their own accord because they found it to be of good quality and relevant to their own audience and site. It's easiest to come by these links once you reach the top of the search engines because other webmasters will find your content ranking naturally and want to link to it because they believe in its quality; so this helps to keep you on top once you get there.
Note that you can get links from lots of other places. Check out my 70+ traffic sources for dozens of ideas on where to get links. The downside is that most of these are nofollow links and as such, while they are still valuable for getting traffic and exposure for your site, they pass no link juice to your site.
What is Link Juice
One of the important terms associated with how to link build is link juice which refers to the positive effects which a link passes on to your page which it's linking to. It's also used as a quantifier sometimes to measure how much of a positive influence a particular link passes on to a page. It's impossible to measure exactly how much influence a particular link has on a page, but it's clear that certain links carry more link juice than others.
Sites which are heavily trusted and given a lot of credibility by search engines such as .EDU and .GOV links (because these sites are never spammy because they are backed by trusted and known sources) are known to carry and pass more link juice than a normal .COM site, for example. It's thought that a higher page rank (see what's my page rank) site offers more juice, though the exact advantages a higher PR site has over a lower one are speculative even today.
So while you always want as many links as you can get, one link from a high PR .EDU site is worth more than thousands of links from low quality spam sites; so link building is very much a quality over quantity philosophy.