Last week, I talked about the importance of email marketing to your business and why you should have a way to capture leads on your site in a post I called Email Marketing 101. Just having a sign up box isn't enough, so let's talk about how to get subscribers and optimize your sign up rate to get the most out of the traffic which comes to your site.
How to Get More Email Subscribers
Step 1 – The easiest way of how to get more email subscribers is plain and simple to always offer an incentive to sweeten the deal for your potential subscribers. Give people an excuse to sign up for your list by offering a free eBook or report which is relevant to your niche. People love value and freebies, so design some kind of incentive to really see your sign up rate soar.
Giving away an informational product like an eBook (see how to write an eBook for more information) is a great way to incentivize people to sign up.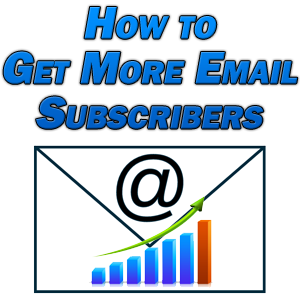 Another kind of incentive to increase subscribers to offer rather than a free download is to hold a contest from time to time and make the prerequisites for entering to win the contest to sign up for your email list (and "like" and "follow" you on Facebook and Twitter, as well). If you take a good prize like a new popular tech gadget and can advertise your contest to a good number of people, you'll see a flood of new sign ups in the short term.
Step 2 – Design a good sign up box/form. This means to:
Make your sign up box visible and attractive. Mailchimp, the email software provider which I use, offers hundreds of starting sign up form templates which you can further customize with different colors, fonts, and your own graphics. Once you've got your sign up box in place, put your email sign up form on every page of your site. My newsletter sign up box prominently displays at the top of my widget section on every single page of my site. It's clean and simple but keeps from being too intrusive at the same time.
Be sure to mention that your subscriber's email will never be shared with anyone else; it's only going to be used by you to send emails to that person. Mailchimp includes an existing line about this on every new form which you create which you can edit as you like.
Keep your "fields" limited to getting a person's name and primary email address only. Include extra fields only when it's absolutely necessary or truly works to increase the likelihood of a sign up.
List the bullet points of the focus of your newsletter. For instance, if it's a recipe newsletter then mention the terms of the newsletter, like subscribers receive one new recipe each week. People don't want to sign up for a newsletter if they're not sure what they're getting themselves into.
Split test over and over and over again with different templates and copy. After you've sent a good bit of traffic to your site, you can check out the analytics reports for each of the tested forms to see which converted the best. Take the one which performed the best, then start the process over again by putting the successful form up against another tweaked copy of it and repeat this process over and over.
Step 3 – Use multiple ways to get people to sign up. I give visitors to my site a few chances to sign up without being too intrusive. In fact let's take a look at the different sources which I use to encourage people to sign up for my list.
Lightbox Hover. When you visit my site for the first time, you'll see my Pop Up Domination lightbox pop up on 99% of the pages of my site. This is easily the most intrusive advertisement for my newsletter and some webmasters shy away from pop ups because they find them to be too intrusive, but I've found that its success rate is well worth potentially offending a few visitors. You should keep in mind that if someone is turned off by one pop up advertising your own site's newsletter, how likely is it that they'll ever purchase anything which you promote to them? The email software provider you go with will offer you a chance to make up your own lightbox form, and you can choose to only have it display the first time someone arrives at your site. I use Pop Up Domination, a special premium plug in for WordPress which specializes in attractive and easy to customize and put together pop ups. I'll have a review of Pop Up Domination coming in a couple of days so be on the lookout for that.
Newsletter Sign Up Box. I mentioned a bit about the stationary sign up box earlier but remember to display this box on every single page of your site so that no matter where on your site your visitor is browsing, they'll have a chance to sign up if the mood should strike them.
Optin Comments. Whenever someone submits a comment to a post I've written, they are prompted to sign up for my newsletter thanks to Optin Comments, another premium WordPress plugin. It operates based on the fact that visitors who take the time to comment are much more likely to sign up for your newsletter than a less engaged visitor. A tip for you: at the time of this post, Optin Comments is priced at $57. If you try closing the window at any time while on their site they'll stop you with a pop up. If you click "ok", then "cancel" on the next pop up, you'll notice the price has been reduced to $27. Pretty sneaky, but this plugin is WELL worth its price at $27.
Facebook. You should have a Facebook fan page for your website/company, and you should have a tab on that Facebook page to advertise your free incentive and provide a sign up box to get subscribers here, as well. It's very easy to add a sign up box for your newsletter to your Facebook page through your email software provider. I use Mailchimp and they make it very simple to add a very attractive sign up box on your Facebook page but you need to use a Facebook app called Facebook Static FBML which turns your HTML into Facebook markup language, then you can simply insert the email form of your choice's HTML to get it to display on your page.
Squeeze Page. Okay, I don't use a squeeze page anywhere on this site, but a squeeze page is a great way of how to get subscribers because a squeeze page is used exclusively for getting new subscribers and nothing else because there is nothing else on the page to do but sign up or leave. You can make a quick video for a squeeze page where you greet your traffic personally and explain why they should sign up for your newsletter and especially play up the free incentive. Then send some quick traffic to that page and watch your list size grow like a weed. See what are squeeze pages for more information on how to use them.
Remember, you're advertising for your newsletter, and the best way to advertise is through repetition, so advertise for that newsletter anywhere people are reading your content if possible.