I've talked at length in the past about why you should continue to article market on article directories. Ezine Articles is still the king of article directories and if you're only going to use one directory, this is the one to submit to. Want to get more views and clickthroughs on your Ezine articles? Of course you do, so consider these Ezine Articles tips for getting the most out of your content and membership.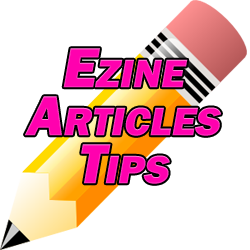 Ezine Articles Tips
Category
First off, think about the best possible category for your article. Oftentimes if you really screw it up when you submit it, the Ezine editor will move your article to where they think it should be. Remember though that in higher volume categories with more submissions, your article will get bumped down more quickly, so categories with less submissions will get you more visibility if you can swing it. A lot of topics can apply to the same two categories, so with all things being equal then you might consider submitting to the one with less articles.
Headline/Title
Remember that for anyone searching the Ezine site itself (hey some people do that), all they have to go on is the title of an article as well as the description. Your headline/title will also appear in the SERPs if that article ranks which still happens on occasion. Therefore make your headline a winner (see how to write a great headline).
Analytics
Ezine article and author analytics are very telling and can in fact tell you a lot about your article just by choosing a particular stat to organize your articles by. For instance, you can organize your articles by views to see which title and possibly description yielded the most interest. Then you can go one step further and organize by URL click throughs in your resource box to see which resource box was the most influential on your subscribers.
These hard stats make for great market research and once you've amassed hundreds of articles per pen name like I have you have a much more telling and reliable pool to pull from and analyze.
Premium Membership
I've plunked down the exorbitant premium membership fee once or twice and one of the most common questions is "is the Ezine Articles premium membership worth it?". For the cost, probably not, BUT you do get some handy features. Top amongst them is the fact that you can schedule your articles to be published at a time of your choosing just like with WordPress. This makes it easy to ensure that your articles are published in a timely and regular manner which your subscribers will appreciate and which will help to keep your content visible above the rest.
At the same time, you can choose odd times which non premium members don't have access to to publish your article like during the weekends. This means that you can get your article to appear at the top of its category in the middle of the night if you like. If you're able to nail down and identify a time in which your articles get seen the most then you can stick with that. Again, for the price it's debatable as to whether or not it's truly worth it.