We're in the new year, so it's time to yet again take a look at the most essential and best free WordPree plugins for 2019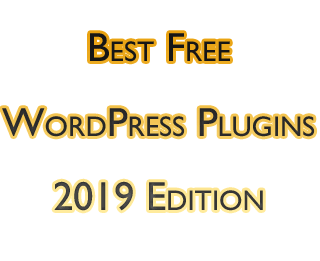 which you should have stocked for the new year. Again, these are all free plugins which will improve your site's functionality for both you, your site's visitors, and the search engines. So without further adieu, let's look at the best free WordPress plugins – 2019 edition.
Best Free WordPress Plugins of 2019
W3 Total Cache – I mention some type of caching plugin every year for good reason. These plugins create saved or "cached" versions of your website on your server, thus saving the need to constantly load fresh from the database each time someone visits your website.

Most of the files on your website are static and don't change. Consequently they rarely need to get refreshed on the server end, so caching plugins regulate how often certain file types need to refresh. For the static files this works out to be very infrequently.
The net result of this is that it cuts down on load time which search engines love. For a lot more tips on this, check out my recent article on how to speed up your website.
In the past I've recommended WP Super Cache because of its simplicity. In my mind that and W3 Total Cache are typically the two best free caching plugins for WordPress. The only real difference is that W3 gives you a lot more functionality.
It's arguably the single most effective free caching plugin for improving your website's experience for your visitors because it substantially reduces site load time. You can link it to a content delivery network (CDN) for a better load time, as well.
Optimize Database after Deleting Revisions – ODDR is a nice spring cleaning plugin which removes old revisions of posts which are hanging around but you probably don't need.

This can clear up a lot of database room if, like me, you could have dozens of old revisions for many of your posts just taking up space.
The plugin also removes items listed as trash and spam completely, as well. It's all one click/automated simple to boot.
Akismet – Let's not waste time covering this one. It's free and comes pre-loaded with WordPress in order to remove spammy comments so you don't have to bother with them. You simply have to activate your free license with it and you're good to go.
Yoast SEO – Yoast SEO makes a great deal of your on page/site SEO set and forget easy. You identify to the plugin your target or "focus" keyword for whichever page or post you're creating, and Yoast SEO will tell you how you can better use that keyword/variations of your keyword in your content.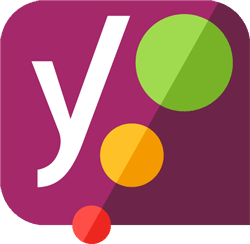 Beyond that, the plugin tells you how good your content for any given page is in general. This includes real-time content scores which reward you for less run on sentences and more readable content in general as well as breaking up text with the occasional image or video link.
The keyword research process is still up to you, but Yoast SEO gives you peace of mind that once you have that perfect keyword that your content will be well optimized for it for both your visitors and the search engines.
EWWW Images – You'll note that optimization and speed is an ongoing theme in this best free plugins of 2019 resource.
Whether you optimize your images ahead of time or not, EWWW Images compresses/optimizes your images further without affecting the visible quality, saving you space on your server and further reducing load time.
The plugin optimizes images both as you upload new ones as well as giving you the option to retroactively optimize every existing image on your site with a couple of clicks.
This can be a godsend if you have a huge content site like ConvertingCopy with hundreds or thousands of existing images which could be optimized.
Pretty Links – Pretty Links is just that: it makes your links much more attractive. So a link with lots of random jibberish/tags/code can instead just be one or two words, making it much cleaner. This is ideal for longer, uglier links as with affiliate links which involve a lot of random code. So if you're recommending a CDN provider and using the affiliate code they gave you, you can just use the URL "yourdomaindotcom/CDN" rather than the ugly hoppy affiliate code they give you and point that "pretty" link of CDN to that affiliate code.

It's also ideal for affiliate links or any link which you might switch out semi-regularly, saving you a great deal of time.
So in keeping with that same CDN example, let's say you use that "yourdomaindotcom/CDN" link whenever recommending that CDN service and you link to them multiple times on various pages. One day you find a better option and want to update your links accordingly. With Pretty Links you can just change where that pretty link redirects with your new affiliate code, saving you a great deal of time of searching down every instance in which you affiliate linked to a CDN. You'd just have to swap out the relevant information around those links to reflect your new CDN choice.
Jetpack – Okay, I fully acknowledge that Jetpack (a free multi-purpose plugin from the creators of WordPress which extends the functionality of the CMS in many different ways) divides most audiences, and admittedly it's not for everyone.

The major criticism is that it's bloated in an age when website load speed is king. This is a fair criticism given that it's one of the larger plugins out there almost out of necessity at all of the things which it can do.
I will say that you can shut down many of its "modules" which you don't use to minimize its bloat effect to a degree, but the sheer number of useful things it can do for it make it worth a mention here. These free features include:
Security – Jetpack provides security for your WordPress based site in a number of ways.

It blocks IP addresses which attempt to brute force login to your account. If you don't use Jetpack for this, then I recommend using Login Lockdown, a standalone which does the same thing.
It automatically updates plugins for your website when they become eligible which is handy as outdated plugins is one of the main ways hackers can find backdoor vulnerabilities to your site.
Downtime monitoring alerts you if your site is ever down. I have a lot of websites, some of which admittedly I don't check in with much regularity. It can be a long time before you know that your site is down if you're not paying attention to the site itself or analytics.

Related Posts – The related posts feature lists relevant posts around every post of your site when turned on. Some themes let you do this as a built in feature. If you don't use Jetpack for this or your theme, use one of the many free related posts plugins to keep people on your site (improving your user metrics in the process).
Sharing – Jetpack makes it easy to pick and choose which social network buttons you want where on your site to encourage people to share your content or connect with you on your satellite social presences like Twitter, Facebook, etc. Many themes have this built in functionality this day, but again if you don't use your theme or Jetpack for this, check out one of the many free share button plugins out there.
Social Network Auto Posting – Every time you post to your website, your connected social networks of your choosing are automatically updated with a link to the post. This helps to give you the appearance of a frequently tended to and updated social presence without having to actually sign in to any of these sites. SNAP is a good free alternative if you don't use Jetpack.
Widgets – Jetpack gives you extra functionality in terms of the options of widgets you have access to, as well. A few examples are:

I like the Posts widget which allows you to feature up to 10 posts from another WordPress based site, so you can feature great posts from another one of your sites or a friends sites to spread some traffic around.
Contact Info is another useful widget, particularly for business based sites. Whether you have a brick and mortar store or a web based business, you can list your phone number, hours, and even an interactive map to show your location and give directions.
There are specific widgets for each social network, so you can better feature any particular social network you'd like in any widget section of your site.

Analytics – You can get some basic traffic stats for your site from another built in module in Jetpack. If you're not using Google Analytics Dashboard for WP or Google Analytics in general, you can get a sense of how your site is doing from Jetpack's pulled stats.
I just mentioned more than half a dozen individual plugins which it takes to get the same experience as with Jetpack, and that's just a sampling of the things which Jetpack can do.
It's up to you to decide whether or not Jetpack is worth it for you, but it's certainly one to consider in the new year as they continue to refine this swiss army knife of a plugin.
BackWPup – Lastly, in case anything ever goes wrong, the BackWPup plugin can be used to restore one of its automated backups to get your site back to where it was when things worked without losing anything.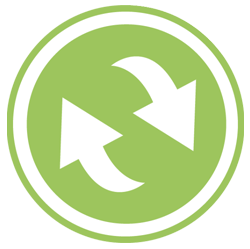 By default you get weekly backups for the last 3 months, so you have plenty of options if you ever need to go back.
This is essential if you ever delete something without meaning to or, more than likely, someone hacks your website.
It's worth mentioning Jetpack has a backup feature, but it's part of its paid plan.