I've talked at length about how I use WordPress in the past. WordPress, for those who don't know, is a free content management/database software which (after it's installed in 5 minutes) makes interacting with your website "dummy book" simple.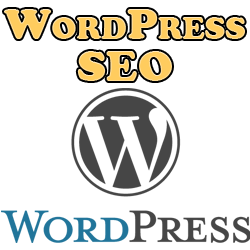 WordPress SEO
Plugins
Plugins are one of the things which make WordPress extra simple and user friendly. There are thousands if not millions of plugins (like Apps) which are used for virtually any function you can think of and most of them are free. There are tons of WordPress SEO plugins alone which make optimizing each new post or page you make as simple as adding your keywords into the corresponding fields. This is a much more welcome alternative to having to code all of that manually. Check out my post on the Best WordPress plugins for 2012 for more info on the must haves for this year.
Trackbacks
Check out my post on what are trackbacks for a complete run down, but trackbacks are basically how blog owners can easily reference each others material and create links to each other. It's a great way to build links and a great way to communicate with other blog owners, network, and build relationships.
Content
Creating, adding, and editing content is as simple as can be in WordPress. You simply log in to your account, click on add new post, then type or paste your content into the field. You can schedule your content to be posted and go live at a certain time in the future, save drafts, or publish in real time right then and there with no FTP to mess with.
Static HTML sites which require you to create your content offline then upload it via FTP. This is a time consuming and annoying process which does not lend itself to making tweaks, edits, or uploading new content on any kind of schedule.
Google and other search engines love both new/relevant content as well as consistency from webmasters in terms of turning out new content; that's one of the reasons blogs and specifically guest blogs tend to rank so well in the search engines, because they have multiple people creating great content each and every day.
Because WordPress makes it so easy to edit your content live, it's easy to create new content more frequently. You can also create a week or more's worth of content and set it up to automatically publish with the scheduler to give the appearance of creating new and regular content even without having to be there.
Also while we're on the topic of content, WordPress makes it easy to add all kinds of other types of content to your blog very easily and optimize it, too. This includes types of media like videos or images. With images, for example, you just drag and drop your image (or give it's web address), add in the alt and title tags and you're done and your images now have a chance to rank in Google images.
The long and the short of all of this is that you should be using WordPress for SEO for your site. You can check out my video on how to use WordPress or sign up for my FREE email and video based 10 Day Fast Track Affiliate Course as that's the first thing I teach on Day 1 along with how to set up a website step by step with WordPress.