Hopefully you have Google Analytics installed on your website so that you can track the various analytics and stats for your site. If you haven't installed it yet, check out this post on how to add Google Analytics to your website. One question a lot of people have out of all of the stats you can learn about your site is what is bounce rate in Google Analytics?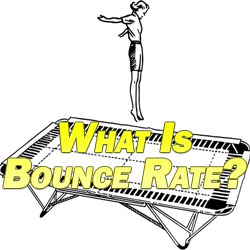 What is Bounce Rate?
Bounce rate refers to the percentage of people who come to your site and leave from the same landing page. This means that they left your website without ever clicking to any other page on your site.
What Is An Acceptable Bounce Rate?
I've gotten this question before as if there is a number which you can average and feel good about. The only truly acceptable bounce rate is 0% because this means that every person who comes to your site sees at least more than one page of your site and no one is leaving as soon as they arrive to your site.
How to Lower Bounce Rate
Obviously the goal is to lower your bounce rate. Here are 6 suggestions for how to lower bounce rate.
Internal Links – Make sure that you use internal links whenever possible, meaning link to relevant posts every time you write a new post if you have something relevant and worth linking to. You can use a free plugin like "Efficient Related Posts" to display relevant posts at the bottom of your current post. A neat feature which it offers is that it offers a score with each of its related post suggestions depending on how relevant it is to the current post in terms of subject matter/keywords. It's also compatible with your RSS feed to offer relevant posts there, as well.
Pop Ups – Do you have a pop up enabled every time someone new comes to your site? This can turn off a lot of people. I use a pop up on every page of my site which you've likely seen before which targets and appears for new/first time visitors to the site. As soon as I began using Pop Up Domination I saw my opt in rate explode, so I wasn't eager to disable it in order to test its effect on my bounce rate, but I did and turned it off for roughly 3 weeks.
Consider Your Audience – If you're not taking your audience into consideration when you're writing then it's likely that they won't stick around your site to read anything else you've written.
Improper Optimization – This works in tandem with the last point, but this means using the wrong tags and keywords. If you're ranking for the wrong keywords in terms of relevancy to your site or you're using the wrong keywords when linking back to your site. The same rings true when you're creating ads for your site to display on other sites, PPC or otherwise. If the ads are not targeted perfectly to match the kind of content which you have on your site then you can expect a high number of bounces, as well.
Split Test – Split testing is an ongoing process and can be used to lower your bounce rate, as well. Split test your pop up as I mentioned, split test your site's design, split test your copy if that's an option, try different things and track your results. When you find something which works both to lower your bounce rate and which works for you in that you're happy with the change.
Call to Action – If we're just talking about your blog then generally it's not as big a deal if someone bounces as opposed to if you've driven traffic to a sales page. If someone isn't clicking through to that next page on your sales site or clicking through to the purchase area, it's very palpable that you're losing money in this scenario. In this case take a look at your call to action which you're using if you're trying to get people to take some kind of action. This can make or break your chances of someone taking the kind of action that you want, so check out this post on call to action marketing or check out my big list of 60 call to action examples.