Search engines love the kinds of content which people love. So when you're writing an article for the web, in addition to accurate and informative text, you'll want to offer that content in a number of different mediums to keep your reader engaged. This means images/infographics (as well as video if possible/applicable).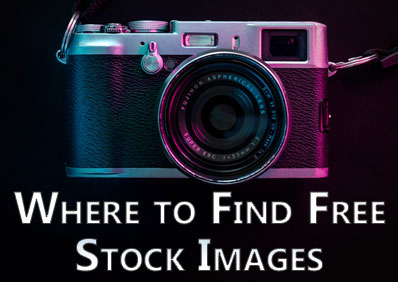 With that in mind, it's helpful to know where to find free stock images which you can use without worry of royalty/copyright issues or having to spend hundreds of dollars on a certain stock photo site (which won't be named (yet)).
In fact, you don't need to spend a penny on any of these sites as we cover the best options for where to find free stock images.
Where to Find Free Stock Images
1 – Unsplash

We'll begin with Unsplash, a Canadian based company which has only been around since 2013 but already receives twenty to thirty million monthly visitors to the site and boasts a database of over 1 million photos and images which you can use at no cost without even creating an account.
There are a dozen or so basic categories you can use to get a huge sampling of sorted images, or, alternatively, you can use the simple search bar to find what you're looking for.
If you use the search bar, Unsplash offers up a number of more targeted categories based on your search along with your image results. So searching for "party" gives you thousands of relevant images related to party while also offering you the option to drill down further by occasion (birthday, Christmas, etc.).
There's also a "collections" link option for every search you do. Clicking this shares groups of images related to your search which are especially relevant and targeted because they are curated by real people. This is just another way of giving you potentially thousands more relevant images related to your search to find exactly what you're looking for.
Unsplash is also a nice resource if you're a photographer who is looking for a service to share your work with.
While it's not required to give attribution to the uploader if you download someone's image, Unsplash encourages it. So many monthly visitors, it's one of the most popular places for where to find free stock images, meaning that translates to a lot of potential exposure back for photographers and artists who share their work on it.
2 – Pixabay

Pixabay is another place for where to find free stock images with a huge database of over 1 million images.
Searching for your keyword in Pixabay brings up a large assortment of related images with the added option of further filtering out your results.
Filtering options include sorting by type (photo, vector graphics, or illustrations), orientation (vertical or horizontal), size, color, and category.
When you download an image, you can choose which resolution you want to download the image from its options, as well, allowing you to download a larger or smaller version of the image depending on your needs.
No account is required for Pixabay, but without an account you'll routinely be prompted to fill out a captcha form before downloading.
Note that sometimes you'll see a handful of images from Shutterstock which will show in their own section alongside your results with the free images. These images are not free but are used to help finance Pixabay's site like showing ads on a website.
Lastly, I get a lot of use out of the simplicity of clip art, and it's worth mentioning that Pixabay has a decent sized clip art library, as well.
3 – Pexels

Pexels is like a miniature version of Unsplash in that its library is about a third the size in total. And actually in doing a handful of searches for the same keyword or phrase, I averaged anywhere from 1/5th to 1/10th the results in Pexels than I got from the larger Unsplash.
Still, it's a relatively huge library of completely free images to search through to find what you're looking for to give you more options, and again, you don't need an account to start downloading.
4 – Stockvault

If Pexels is the miniature version of Unsplash, then Stockvault is the mini version of Pexels. With a library about a third the size of Pexels, Stockvault still has well over 100,000 images which are personally curated by those at Stockvault.
This leaves you a large database to find what you're looking for, and with less traffic than its competitors, you have a good chance of finding a unique image which other webmasters haven't used in your same spot for whatever category you're targeting.
5 – FreeImages

Once upon a time, FreeImages (and all of its previous incarnations like "Stock Photo Exchange") was my go to for stock photos to use on my sites.
Since then, the previously mentioned options of where to find free stock images from this article have all popped up, grown, and thrived whereas FreeImages has stayed the same.
Which isn't to say that it's not worth your time; FreeImages still offers a collection of thousands of images related to most searches and plenty of filtering options like those mentioned earlier.
It's worth mentioning though that for every free image FreeImages's collection holds, it displays many more times worth of premium images from other sites.
Still, overall it's not a bad resource when you're casting a larger and wider net to find free stock images.

No list of places for where to find free stock images would be complete without mentioning arguably the largest image database on the internet, Flickr.
Note the asterisk, however, as there are a lot more license terms and conditions associated with many of the images on Flickr, much like the very similar and previously mentioned Shutterstock. Some images can only be used in certain scenarios, such as non-commercial use only, and many more you need to contact the image owner to get their permission before you use it.
Also note that you can exclusively search for images which allow for commercial use, still leaving a huge collection of free stock images to search from.
And with a library in the tens of billions (that's BILLIONS, with a "b"), if you can't find what you're looking for anywhere else, you never know when you might find that perfect image which is free to use for you on Flickr.
It's also a solid resource for anyone who appreciates the technical process of photography and wants the most detailed information as it relates to this. This means you can find images based on the type of lens or camera used to create it which not many other sites can boast, particularly on such a large scale.