Let's talk about how to write a return policy for a minute. As I established the other day, I'm selling my new product through Clickbank AND DigiResults (see my post on merchant affiliate programs for more information). One of the reasons I went with DigiResults as well as Clickbank is because they put you the product owner in charge of refunds as opposed to say an affiliate like Clickbank which handles refunds and can go above your head to issue a refund of your product without your acknowledgement or awareness many times.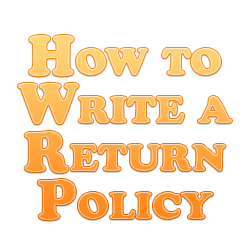 How to Write a Return Policy
With DigiResults, you the product owner are in charge of granting or denying refunds on a case by case basis. Note that if you grant a refund, DigiResults will automatically handle the refund, taking the commission gained by both you and your affiliate, and will issue it to the customer.
It's important that you come up with and establish an official return policy and include at least the gist of it on your sales page while possibly linking to your complete policy on another page so that you can use that when necessary to back yourself up and safeguard yourself against any complaints which come your way.
You don't have to get all technical with legal mumbo jumbo when writing and detailing your return policy. Unless you're actively trying to trick your customer (in which case you'd probably want overly verbose language and legalize), keep it simple and outline the terms of your policy as I showcase in this return policy example
Return Policy Example
"As mentioned on my purchase page, you are entitled to a full money back guarantee for 60 days. If at any point between the date of purchase and 60 days elapse the customer decides that they are dissatisfied with the product, they may apply for a full refund.
If applying for a refund, the customer must detail their reasoning for requesting the refund at which point the merchant has the opportunity and right to attempt to resolve the customer's complaint. If the merchant is unable to resolve the customer's complaints, then the customer will be issued their refund in full.
Requesting a refund at any point beyond that 60 day window voids the money back offer."
This return policy example is direct and to the point and clearly outlines the terms and details of the guarantee. The exact terms of the policy are entirely up to you the merchant, so while you can use your return policy to help motivate sales with language like "no questions asked", be sure to simply come up with terms which you feel comfortable with and be prepared to stick to them in the case of a dispute in case it comes to that as your return policy will play a role in deciding any disputes which arise.