If you're reading this (or if you've ever heard of the internet), then you're likely familiar with Facebook and how having a lot of likes for your brand is a great way to spread your reach. Anytime someone new gives you a like, your activity will appear on their feed which will keep them abreast of the updates which you make. Perhaps even better, when someone likes your page, it can be shown on their timeline for all of their friends to see, potentially bringing your brand a number of new fans and likes to exponentially grow your business through social media, not to mention it's also a strong indication of social proof.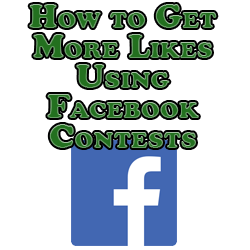 How to Get More Likes Using Facebook Contests
All this to say that there are a number of different incentives and reasons for why you should want to collect as many likes as possible. So how can we get more likes? Check out my post on how to get more Facebook likes for 8 great tips but there is another effective technique which I haven't covered in that post. Facebook contests are effective ways to generate more Facebook likes which will in turn bring in more traffic and business for your company.
How do we use Facebook contests to boost our likes though?
Design a Prize
First you need to decide what sort of incentive you're going to offer. The better the incentive, the more likes you're going to be receiving. What makes a good incentive? The two main criteria are value and relevance. Value is straightforward enough; the more expensive or valuable that incentive, the better. Relevance relates to your specific audience. Obviously your audience and what they want will differ from what someone with a completely different business's audience will want. Still some things are universal such as cash or even an equivalent of cash like Amazon gift bucks.
Design the Terms
What are you getting out of the deal? In this case it's Facebook likes so what you can do is use a content blocker which is specifically designed for Facebook so that someone has to click the like button on your page before either a download or just content becomes available. So once they click on the "like" button, your audience will reach a sign up field which allows them to enter the contest. This makes for a free way to
Market The Facebook Contest
The last bit is to market your Facebook contest. A nice resource is giveaway directories which is basically a site which lists contests which people can enter. This is free promotion for your contest. Here is a list of giveaway directories to consider submitting your contest to.
Next you should take to other social media outlets like Twitter, Pinterest, and any other networks you want to advertise to your followers. Hit your email list subscribers, as well, and make a post about it on your site. You can ask your list and everyone else to tell their friends about the contest, as well, to get even more likes.
Once you have the likes, make sure you make the most of them by continuing to create good and engaging content to share with your audience on the regular to maintain those likes.