YouTube offers its channel owners the option of adding a watermark/subscribe option to their videos. This button can be whatever image you like and will appear in the lower right hand corner of your video for the duration of every video if you like. Here is how to create a subscribe button on your YouTube videos.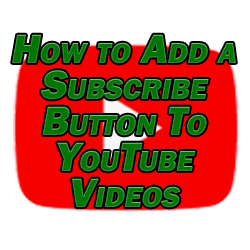 How to Add a Subscribe Button To YouTube Videos
Benefits of Using a Subscribe Button on Your YouTube Videos
-Viewers have a simple and prominent one click option to subscribe constantly visible in the lower right hand corner of your video, so you're not limiting your window to just the end or a particular segment of your video.
-Button is part of the video itself, so if your video gets embedded on someone else's website, or if someone is watching your video anywhere but on YouTube itself where you have your subscribe button right below the video, you know that your viewers always have an easy one click solution to subscribe no matter where your video is online.
-Subscribe button's image can be whatever you choose, so it can be used to help brand your videos if used properly.
I wouldn't recommend using a subscribe button in all niches. For instance, if you were doing a "let's play" then it may detract or distract from what's going on on the screen. On the other hand, if you're just creating screen captures or even list format tutorial videos, a little subscribe logo in the bottom right isn't going to hurt anything.