2018 is upon us, and while Fiverr is still a great way to make money by performing microtasks and services, there are three substantial reasons for why you should consider a Fiverr alternative.
Fiverr Alternatives 2020
One reason is that you'll find less competition with other sellers on Fiverr alternatives because they're not as popular. So if you have found that your gig has been swallowed up by dozens of others offering the same services in your niche, think about a smaller site with less buyers but also less sellers.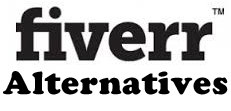 Secondly, while Fiverr offers sellers the ability to set multiple pricing options, they're still synonymous with $5 services in most people's minds. Most Fiverr alternatives recalibrate the mindset going in for buyers so that they expect higher prices (with higher quality).
Lastly, you want to saturate the market as much with your services as possible, so you want to touch as many micro gig sites as possible to take advantage of each of their respective client pools. Remember the biggest net catches the most fish, so cover all your bases with these Fiverr alternatives in 2018.
GigBucks
GigBucks is probably the most well known micro job site after Fiverr, so make this your first stop for listing your gig. It boasts all of the same categories which Fiverr offers so migrating your micro-job over here will be simple. A gig can be anywhere in the range of $5 to $50 right away, so you get a bit more control over how much you can charge for higher end gigs which are worth more money because of the effort put into them. It's free to join, as well.
TenBux
Another near Fiverr clone with the exception of being able to charge $10. For most jobs you sell on Fiverr, you could likely get away with charging $10 for, just maybe add in some kind of incentive like a freebie giveaway with the gig to make the distinction. TenBux takes 20% of every sale, just like Fiverr, so $10 becomes $8 just so you're aware.
Tenrr
While we're on the $10 topic, Tenrr is another site which lets you charge $10 for your gigs. There isn't much distinction between it and TenBux, save for having a different buyer pool, so make use of it.
Fourerr
Starting to see a pattern here? Fourerr lets you charge $4 with the intended goal of being to therefore bring in more customers than Fiverr because of the cheaper standard rate. I'm sure that was the hope when they started the site, but that hope never quite came to fruition. They still claim 20% which only works out to be 80 cents, but if you have a gig you can get away with only charging $4 for (and receiving $3.20), you can grab their buyer-base.
FiverrUp
I like FiverrUp because it's one of the more versatile micro-job sites. It allows you to charge anywhere from $4 to $100, so it basically has an answer for most of the other micro-job sites' rates all in one. You can also push your gig to the front page once per day, so every day you have a chance to get seen for a limited time which is much more preferable over the somewhat randomness and hoops which Fiverr makes you jump through (see my post on how to rank higher on Fiverr for more information).