The year is winding down and there's officially only one more day left before the new year. Everyone likes to make resolutions this time of year; maybe you've already made one (or a few) of your own. If I can make a suggestion, I offer that your resolution be to make this the year that you break through and succeed in online marketing, quitting your job and working from home/from your island of choice full time. If procrastination is your major roadblock, consider these cures for procrastination.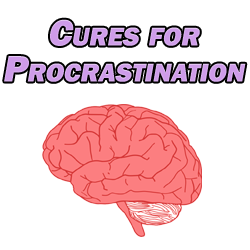 Cures for Procrastination
No, it won't be easy; nothing worth doing ever is. Procrastination especially will do everything it can to derail your resolution. Procrastination is a terrible roadblock in any kind of self motivating industry like online marketing which affects everyone at one point or another, for some people more than others.
When you're working for yourself, it can be difficult to remain on task and keep motivated when there's no one breathing down your neck or getting on your case with deadlines. That's also on the pros of making money through online marketing, but it does come at a cost. Let's kick laziness and feelings of unproductivity to the curb with these 5 cures for procrastination which you can take with you into the new year.
Motivation Reinforcement
When you first wake up in the morning, spend 5 minutes looking at your motivation online. Whatever that motivation is whether that's a house on the beach, a new car, etc., remind yourself of what your motivation for wanting to be successful is to carry that motivation during the most important part of the day.
Make a To Do List
I have an ever changing notepad file on my desktop which is full of tasks which I need to get done. If you're anything like me, when you first wake up in the morning your brain isn't functioning at 100%. I may h ave some vague ideas about what I need to get done for that day when I wake up, but I tend to waste a lot of time when it's not in crystal clear black font staring right in front of me in a formal to do list format. When I have that to do list, I can open it right up and remind myself exactly of what I have outlined for myself to do the night before and get right to work while my brain and body start to come online for the day.
Reward System
A reward system in combination with a to do list works like gang busters. I like to go down the list from the top, identifying the first task on my list and completing it knowing that I can take a short break and reward myself upon it's completion. Some people will work better with a strict time based method where they work for 10 minutes, break for 5, then back to work. Get a timer if you like and prefer that much structure to get things done or just stick to the basic complete a task take a break, complete another task method.
Remove the Clutter
Mess preys on the mind so remove the mess by making sure that you have a clean workspace to get things done in. Check out my related post on organizing bookmarks for tips for clearing out your compy as well as your mind.
Don't Touch the Email
People love to constantly and habitually check their email throughout the day, oftentimes without even realizing it. Train yourself to check your email once in the morning when you wake up, perhaps before reminding yourself of your motivation so that it doesn't pollute into your actual work block, then don't touch your inbox until lunch.
Discipline is a major key in all of these procrastination tips and while it doesn't come easy at first, once you've practiced them for a few days it becomes increasingly easier to follow them.
In following these procrastination tips you'll find yourself almost magically getting numerous important things done every day and feeling very satisfied and happier on top of that versus in the past you found yourself wondering where all the time went and what you got done for the day.