2013 SEO ranking is decidedly different than SEO from last year and even more different from years ago. I did a post a year and a half ago on Google ranking factors but SEO evolves at such a high rate I thought it important to throw my 2 cents to how exactly I believe that it's evolved and more importantly what is paramount in your SEO strategy today midway through 2013.
To commemorate this event I've created a whole new 2013 SEO ranking pie and will break down each factor and reflect on how I believe that it's influence has grown or waned on today's Google. Note that I specified that this is just my personal belief. Yep, this is your disclaimer and reminder that no one knows the precise factors or their influence for sure but I can only talk about what I see success with in doing my own personal research.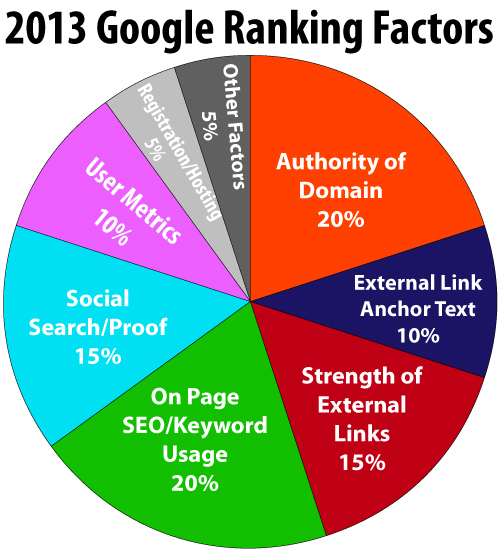 Authority of Domain – 20%
Beginning with where we began last time, authority of your domain is still paramount when it comes to 2013 SEO ranking. Having a domain with a great deal of authority, meaning you already have a number of ranking pages, a high page rank, high quality inbound links, good on page SEO, and that your domain itself has existed for a decent amount of time are all contributing factors in developing a good line of credit with Google.
So just by virtue of having a good existing standing with Google, new content which you create will have a much higher chance of ranking well than if you were less trusted to Google. Admittedly this isn't much help for new websites or SEOers but still very worth keeping in mind.
External Link Anchor Text – 10%
Exteneral link anchor text continues to take a beating in terms of its influence simply because so many SEOers have abused it over the years that Google has been forced to limit the weight which it bears on ranking in 2013. I still attest that targeted/keyword rich anchor text can be very beneficial when it's coming from a very authoritative domain with a lot of page rank, but it's important nowadays to vary your anchor text greatly between the 3 types of anchor text to make your link building look natural which is the name of the game in a lot of ways.
Strength of External Links – 15%
Creating links to your site is never natural and will always be technically frowned upon by Google, but receiving strong links from other sites whether you create them or not will give your site a great deal more authority which in turn will help it to rank better. With the strength of external links you should also include the diversity of external links as link diversity gives your site a more rounded and natural linking profile.
On Page SEO/Keyword Usage – 20%
Keyword usage will always be important (see my keyword SEO checklist) but I bumped up on page SEO to 20% to account for the greater influence which I believe it now plays to Google who wants your pages to stand out from the competition. So again not only does this mean having your keyword usage straightened out and optimized but it means to vary your content on your pages. Have a healthy mix of text, images, and video on as many of your pages as possible to see those pages rank better. I have found that just putting together a video on whatever your page is about, uploading it to YouTube, and then embedding that video on your page makes a big difference in your ranking. This makes sense and is right in line with what Google is out to do which is provide your user with the best possible experience and solution to their search query which is done through a number of different outlets like having answers in both text and video.
Search and Social Proof – 15%
Search and social proof continue to gain more influence over your content simply because more people are turning to or relying on social media for what they're looking for every day. The more shared your content is, generally that's a direct vote for and reflection on its quality, so make your content sharable and make your content great as always to garner lots of positive social proof.
User Metrics – 10%
Note that I swapped the name here from "traffic and bounce rate" to simply "user metrics". Google are continuing to look to statistics which are difficult to impossible to fake in order to review a site. Traffic and bounce rate are two statistics from the greater user metrics which are more difficult to fake which is why I doubled their influence from last year to 10%. See 6 user metrics which will affect your ranking in Google to learn more about it and provide your users with a better experience.
Registration and Hosting – 5%
While this hasn't changed much, I still believe that your registration and hosting details can play a slight but palpable role in your ranking. I recently switched my hosting provider for many of my sites (including this one) because my sites were taking too long to load. After optimizing them in terms of speed in every other way I could think of, I finally made the switch and am very happy with the difference. Site responsiveness and speed is one of the miscealeous/other SEO factors but an important one because it impacts the end user of your site, so make sure you feel good about your hosting provider. You can learn more about this in my hosting and SEO post.
Other Factors – 5%
Again there are dozens and maybe hundreds of other Google ranking factors which play small roles in SEO such as the architecture of your site or even the website load time which I just covered.