Sometimes the pull of black hat SEO can be overpowering, but most often you'll be much safer sticking with non punishable white hat SEO tactics. Odds are that even if Google hasn't caught on to whatever black hat tactic you're using to achieve rankings, they will eventually and when they do you'll lose those rankings you enjoyed with it oftentimes being near impossible to get back. White hat SEO refers to search engine optimization tactics you or your site's online marketer can employ which are Google/search engine friendly for getting your site to rank. These are white hat SEO tactics which are in fact Google approved and preferred as they don't attempt to game the system.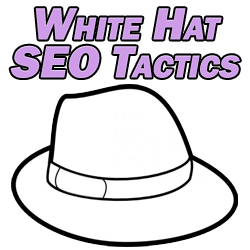 White Hat SEO Tactics
Keyword Usage – A cornerstone of good old fashioned white hat SEO. Keyword usage admittedly can go black or white hat, depending on how you use it. If you're keyword stuffing then that would obviously fall under the umbrella of black hat SEO. On the other hand, good keyword SEO should be your first order of business before you go to the trouble of doing any other real SEO for your site.
Guest Blogging – Guest blogging is another white hat SEO method which involves contacting another blogger, presumably in your niche, and offering to write a guest post for their blog. It's great for networking and gets your writing and point of view in front of a new audience. Generally you're allowed a link of some sort back to your site so that's some valuable link juice coming your way.
Natural Inbound Links – Getting natural inbound links is always the goal. Creating your own links to your site is easy, but Google understandably isn't impressed at your ability to do this because there is no vote of quality involved.
Interior Links – Make sure to make full use of interior links whenever you can link to relevant content elsewhere on your site. This spreads the link juice around your site and also helps Google identify your content and which keywords are associated with which pages. This also keeps people on your site longer and lowers your SEO bounce rate which is a plus and one of those less affecting but still important Google ranking factors.
Blog Commenting – Blog commenting can be abused which is why it can go anywhere from white to gray to black hat, depending upon how you use it. This means not leaving stock comments without reading the content and commenting just for the sake of a link. You'll get a lot further if you target relevant blogs, stay on top of their new post updates, and leave well thought out and thought inducing comments (even omitting the keyword rich anchor text for your link) which will encourage traffic back to your site. See how to blog comment successfully for more information or a recent post of mine from the other day on how I get 200 daily unique visitors through blog commenting.
Quality Content – (Regularly updated) quality content is a major key in white hat SEO. Google loves freshly updated content which is one of the reasons I say WordPress helps you rank better, but they love quality content to put at the top of their SERPs as this ties in with the natural inbound link point and gets other webmasters to link to your content willingly.